The Gate City Grays split a doubleheader on the road Saturday, beating the Providence Wolverines 10-0 in the first game before falling 4-2 in the nightcap.
Grays fall to Hyrum, 8-4
Grays use depth to beat Brigham City, run record to 5-1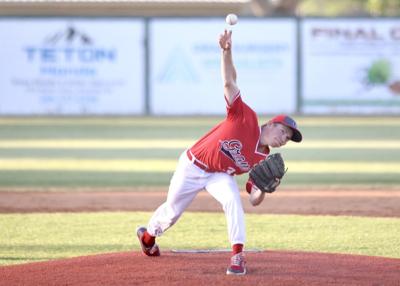 Gate City Grays pitcher Kyler Spracklen delivers to the plate during a game against the Brigham City Peaches at Halliwell Field on Tuesday. Easton Watterson drove in four runs and the Grays banged out 19 hits in an 18-8, mercy-rule win in six innings.
Gate City Grays win 3rd league championship
POCATELLO – At the entrance to Halliwell Park on Tuesday, Gate City pitcher Chris Needham hugged Terry Fredrickson before telling the Grays owner that he was going to win for him.
Three days ago on Saturday, Fredrickson's father, Jerry, died of heart failure.
Three days later on Tuesday, Needham fulfilled his promise. The winning pitcher helped Gate City defeat Providence 6-5 to clinch Gate City's third Northern Utah League title in four years.
The Grays route to a win was as circuitous as their trek through the season.
Gate City (21-11-1) scored the first two runs of Tuesday's game in the bottom of the second inning before Providence pounced in the top of the fifth inning by scoring four runs to take a 5-2 lead. But with the help of Providence's struggling pitchers, Gate City quickly bounced back with three runs to tie the score 5-5, and that was followed by a go-ahead run in the sixth that was drove in on a sac-fly by Chase Barrera.
"They're a good ball club. It's not like we gave them anything," Gate City manager Trent Seamons said. "They're tough and don't make mistakes. And they got some across and that's what we expected. I was just really hoping the guys would stay focused."
Providence (22-5) went undefeated in five games against Gate City in the regular season, minus a matchup the Wolverines forfeited. The Grays were outscored 40-11 in their regular-season losses to Providence.
Gate City made those games void by executing a sweep in the NUL best-of-three championship round. After the Grays won 2-0 on Monday at Providence thanks to the arm of Mason Foltz, they were assisted by Needham, who did just enough to guide his team to victory Tuesday. Needham allowed eight hits and four earned runs while striking out six and walking one in six innings against the prolific Providence bats.
The highlight of the game for Needham was allowing one hit in the sixth frame after giving up four runs in the fifth.
"Fifth inning, it wasn't a very good one," Needham said. "But in the sixth, it was just about making adjustments and having a quick inning. The offense did a really good job of getting us back into the game, tied it up."
Then, it was left to Gate City's James Prockish and the defense to finish it out in the seventh inning. When the game concluded, the Grays stormed the diamond and made a dogpile. It was the second time the Grays have celebrated the championship on their home field.
At the same Halliwell gate Needham made his promise, gobs of fans filtered through and filled Halliwell to capacity and witnessed it all, from the intense outing to the celebration afterward that marked the end of the Grays' fifth year of existence.
It was a bittersweet moment for Terry. Not only did his father die Saturday, but his brother, Jerry Devon Fredrickson, died on May 3. But after and during the game, Terry received countless embraces from one person after another in an environment he and his wife, Erica, created.
"This is family," Terry said. "I felt loved tonight."
Grays baseball: A win for the Gate City — Grays dedicate NUL trophy Poky community
Barely a week after the semipro ballclub won its second consecutive Northern Utah League championship, Brian Blad set the precedent for 2017.
"Next year, we're gonna three-peat," Pocatello's mayor shouted into the microphone. The declaration sent the crowd into pandemonium Wednesday at the Grays' trophy presentation at the Old Town Pavilion.
Blad's statement may seem rushed and unattainable. But when you consider Gate City's three-year run in the NUL that has included two championships and an undefeated inaugural home season, it's natural to expect trophy dedication No. 3 this time next August.
"The first year, they found out that we knew how to play baseball in Idaho," Blad said. "The second year, we made sure that there was nobody that understood baseball better than us. The third year, we repeated the win."
Fans converged on Revive @ 5 Wednesday evening to enjoy good food, a cold drink and live music. At around 6:30 p.m., the Grays took the stage and stole the show.
"Today is about Pocatello," Fredrickson, the Grays' co-owner, said. "It's about the community. It's about being a part of something that's bigger than you. And that's what the Grays are. This award is for Pocatello. These guys earned this."
The crowd was never louder than during the five-minute intermission.
And away from the stage, Fredrickson doesn't need to be a walking advertisement to know he's helped build a fanfare with staying power.
In fact, he can be just the opposite: a seemingly rivalrous fan in Gate City territory.
"I had on my Blue Sox shirt in honor of Nyals (Bodine)," Fredrickson said. "I had a guy stop me and he's like, 'Hey, go Grays!' And I'm like, 'Yeah, go Grays!' I'm thinking he knows me from the games. And he's like, 'Yeah, seriously dude, this is Grays country.' I'm like, 'Yeah, I know. Go Grays.' He had no idea who I was.
"And finally it dawns on me: I've got my Blue Sox shirt on." Bodine was the longtime bat boy for the Blue Sox who was killed in a car accident in March.
Backed by a passionate fan base, committed ownership and loyal community, the Grays have blown away the rest of the league in attendance figures and maintain a distinct home-field advantage. Chances are, if you visit Halliwell Park on a Friday or Saturday night, you'll see plenty of familiar faces.
And chances are, you'll witness a Gate City win.
That's what's makes the Grays special: they're a startup team that may as well have been here for decades. Nobody had to go out of their way to introduce themselves. The adoration has always been mutual. Like lifelong friends reconnecting after years apart.
The success has been a satisfying byproduct. A collective dominance over a league that can't keep up.
So, maybe Blad's assertion of further championships isn't premature at all.
"We welcomed it pretty well this last year," said Grays infielder Sean Persky. "So hopefully we can do it again."
TWICE AS NICE! — Gate City Grays win second straight NUL title
Josh Friesen/Idaho State Journal
 POCATELLO — The Gate City Grays are a Northern Utah League dynasty.
They had the best record in the league their inaugural year. The battled through an up-and-down regular season to win their first NUL title in 2015.
And as night fell on Halliwell Park for the final time of the summer, the Grays could once again call themselves champs.
Gate City shut down Providence 5-0 in the second game of a best-of-three championship series to clinch its second straight Northern Utah League title.
"It means everything," said Gate City skipper Trent Seamons. "We're here for the city. We're here for Pocatello, Chubbuck, the Gate City."
The Grays were full of energy. Coming off a back-and-forth 11-inning marathon in the first game of the series Saturday in Providence, the Grays were focused from the beginning.
It started on the mound; it started with Matt Terry.
"I knew that this could potentially be the clinching game at home, and I didn't want anybody else but Matt in there," Seamons said.
Terry was on top of Wolverine batters all evening. With a nasty slew of offspeed pitches, Terry kept drilling the strike zone without relent. And whenever a Providence batter did make contact, the Grays defense was there to scoop the ball off the dirt or make the snag in the outfield.
With each out, the Gate City faithful got that more raucous, and it was fueling Terry's arm.
"I feed off that stuff," he said. "When everybody's going crazy, I love it."
Terry ended the night yielding one hit, no earned runs and striking out five, and he got all the run support he needed in the bottom of the third.
Nick Winters led off with a single and was followed by Tanner Daley's single in the next at-bat. Tory Hansen's RBI pushed Winters across, and by the time Cole Mansanarez stepped up to the plate, the crowd's fervor was reaching a boiling point. Mansanarez belted a hard-hit ball just out of reach of the Providence center fielder. Daley and Hansen scooted across home, and Halliwell erupted.
Sean Persky tacked on another run near the end of the third, and Chase Teter added an insurance score in the fifth with an RBI double.
But by then — considering Terry's dominance on the mound and Gate City's stellar defensive efficiency — the game was already out of reach. After the final out of the final inning, the Grays dogpiled on top of each other near the mound. It was a fitting end for an extraordinary season.
"It came down to pitching. That's for sure," Seamons said. "(We were) building the pitching all summer, and to see them come together and accomplish what they accomplished here at home — phenomenal. That's what we've been waiting for all season. We couldn't have asked for anything better."
Gate City's 2016 season may be just one successful year in a pile of two others. But for many, it's the sweetest.
"It's even better than the first (championship)," said Gate City's KC Qualls. "How it feels, I can't really explain it. … We wanted to end it here for our fans because we love our fans. This was just the ideal moment and time and place to do it."
Grays win Northern Utah League title, defeating Smithfield 7-4
By Kyle Franko kfranko@journalnet.com @ByKyleFranko
Aug 12, 2015
SMITHFIELD, Utah — Carson Taysom stood on the field in a championship T-shirt, soaked in sweat, and hugged his crying mother and sister.
Taysom had just thrown seven innings of baseball, helping lead the Gate City Grays to a 7-4 win over the Smithfield Blue Sox on Monday in the Northern Utah League championship game.
In the Grays' second year of existence, they're champions.
"You dream of winning the championship as a kid," Taysom said. "I'm just thankful to have a team like this and for us to come together."
A graduate of Century High School, Taysom seemed to soak the moment in as he embraced his mom (Mary) and sister (Amber). It's been a few long months for Taysom and his teammates. The Grays had their ups and downs battling rain and unexpected losses. But in the postseason tournament, everything fell in Gate City's favor.
It started with arms like Taysom. The lefty ace struck out six, walked three and gave up four runs off seven hits against the Blue Sox.
It wasn't a dominant performance for Taysom. Smithfield blasted two home runs in the opening inning and led 3-0 before Gate City (21-13) could record a second out. But Taysom shook off the rough start, refocused and held the Blue Sox to a run and a hit the final six innings.
Gate City manager Trent Seamons could have pulled Taysom to start the sixth or seventh inning. The Grays were clinging to a three-run lead, and had a set of healthy, eager pitchers stirring in the bullpen ready to close it out.
But Seamons left Taysom on the mound. He stuck with the man who has played for the Grays since the very start.
"Carson has been telling me all year that this is it for him," Seamons said. "That is yet to be seen, but, yeah, I was going to ride him out. Because he earned it — all year. The last two years, everything he's done on and off the field for us."
Seamons put his faith in Taysom and the left-hander responded with a strikeout to end the season.
"Last year, we hit the postseason and didn't do so well," Taysom said. "This year was just the opposite. We fought all season long and we came together at the right time. Top of the world right now."
Taysom did his part for Gate City defensively, and the Grays' offense did theirs to make sure an early three-run deficit wasn't their undoing.
The Grays needed four innings to rally. Tory Hansen scored in the first inning off a Diego Robles' RBI-groundout. And Gate City tacked on two runs in the third.
That set up the dramatics in the fourth frame. Robles strolled to the plate with the Grays trailing 4-3. There were two outs and two runners on for the right-handed slugger. It's exactly where Robles wanted to be.
"It was just a fun situation. I just like hitting with two outs with runners in scoring position," Robles said. "That's just something I've always done well all through college. I was just sitting for my pitch, and he finally hung me a pitch I liked."
It was a fastball, up and in. Robles ripped the pitch to left-center field, just over the fence. The three-run home run pushed the Grays to a 6-4 lead, an advantage Smithfield never threatened.
Robles finished with four RBIs and scored two runs. Hansen went 3 for 4 and added two runs, and Greg Casper went 2 for 3 and had an RBI.
Taysom, Robles, Seamons and the rest of the Grays celebrated the championship on the field with Gate City fans who flooded Richard V Hansen Baseball Park. The NUL championship game was 90 minutes from Halliwell Park, but nobody could tell with how many Grays fans showed up.
It was fitting, really, that the Grays took over Smithfield's home ball park. Gate City fans have supported Pocatello's semi-pro team from the very beginning. They weren't going to miss the biggest game the Grays have ever played in.
"Those last two innings, these fans just fueled me," Taysom said. "You look up there and you just see Grays plastered everywhere. It was like I was at home. There was nothing better."
More Information
THE RUNDOWN
Gate City 7, Smithfield 4
Records: Gate City finished the season 21-13 and Smithfield finished 30-11.
Key stat: Smithfield stranded eight runners on base and didn't score a run after the third inning.
Key moment: When Gate City's best hitter responded in the biggest way. Diego Robles gave the Grays a 6-4 lead in the fourth inning after hitting a three-run home run.
Quotable: "Obviously, we wanted this last year. The fans are so great. The fans are basically the reason why I came back again. I had an opportunity to go somewhere else and play. But I just liked the loyalty and all the fans we draw. The guys on the team are just so great. The atmosphere is so awesome." — Gate City catcher Diego Robles
GATE CITY 7, SMITHFIELD 4
Smithfield 3010000 — 4 7 2
Gate City  102310x — 7 8 0
Smithfield — Pitchers: Jesse Parker 4.0 IP, 6 R, 1 K, 3 BB, 2 H; Colton Draney 2 IP, 1 R, 2 H, 1 K, 1 BB. Leading hitters:
Gate City — PItcher: Carson Taysom: 7 Ip, 7 H, 4 R, 6 K, 3 BB. Leading hitters: Diego Robles 1-4, HR, 4 RBIs, 2 R; Tory Hansen 3-4, 2 R, 2B; Gregg Simons 1-3, RBI, 2B; Greg Casper 2-3, RBI.